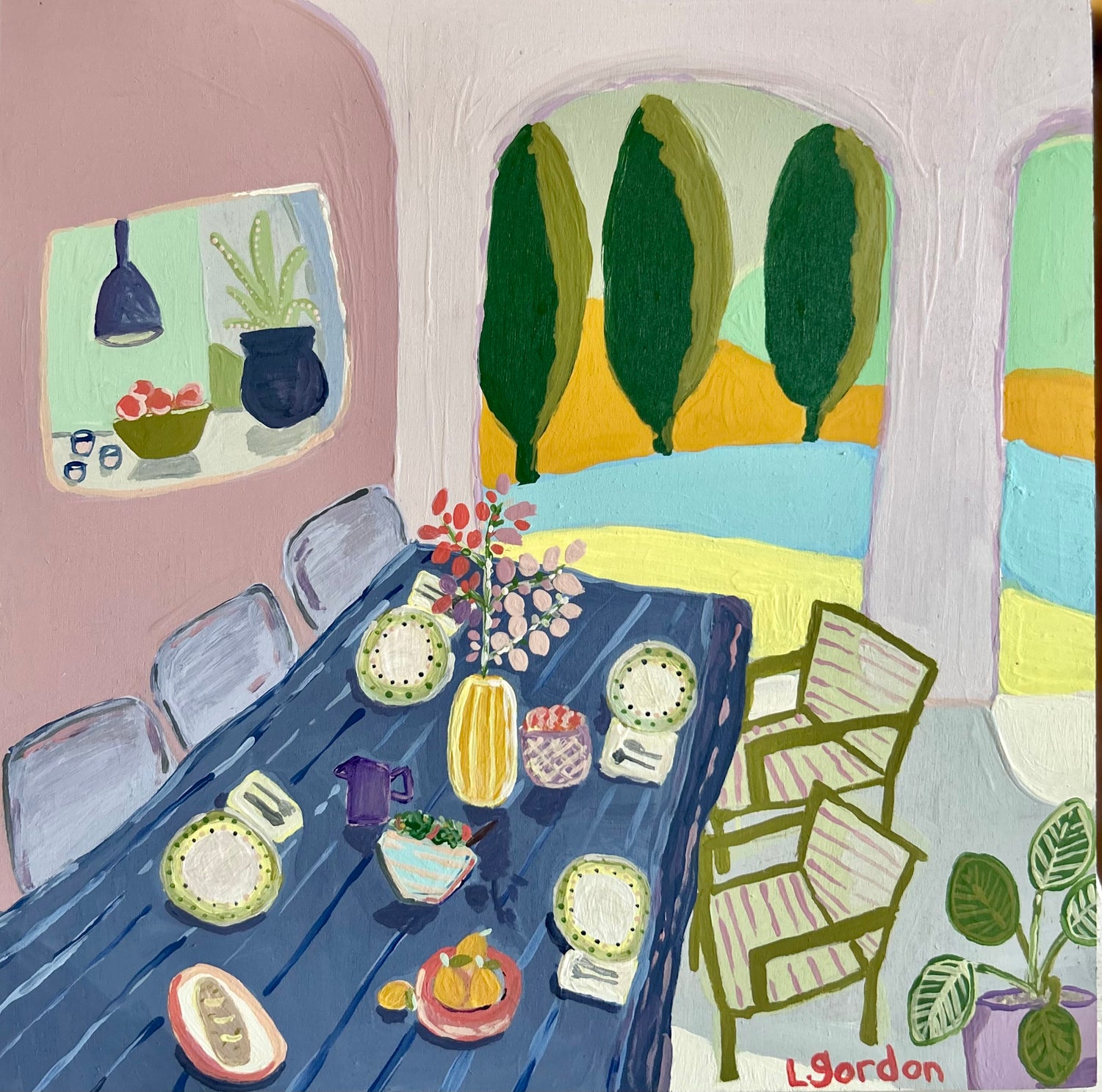 I live in Greensboro, North Carolina with my family of two boys and my husband Miles. I was born in Orange County California, and grew up in Southern California and Honolulu, Hawaii. In middle school we moved to Raleigh, North Carolina and I went to college at Appalachian State University in Boone, North Carolina.
While I am self-taught, growing up I was around art all the time. My mom always had art materials available for us to make something. We visited the Art Museums in LA and I was inspired from the culture in Hawaii. I enjoyed sewing my own Barbie doll clothes, typing poetry on a typewriter with paper I painted (side note, I also thought I may like to work for Hallmark, so this was my effort to make greeting cards as a child). My Aunt, who lives in Tampa, FL (graduated with an MFA from UNCG) encouraged us, sent us art and craft materials, and still does this today. She always made our family handmade gifts and cards, and like my mom, instilled the love for art early on.
I worked at GreenHill Center for NC Art for eight years, so I have been around art and artists in my working career. I learned so much from artists and my co-workers there
about what it means to be an artist, the importance of art in our communities and what an art gallery can do for artists. I also studied the artwork I was promoting at GreenHill,
the artists techniques, their colors and styles, and found my own preferences from their examples.

I am just starting out on this art adventure for my own art and it all stemmed from a decision to paint 30 minutes a day after making some Christmas gifts and realizing how
great it felt to do something creative again. My friend Katie requested a commission of a table scene after I had only painted plants, and that also evolved into chairs - places where we often find joy and respite. So here I am...working with acrylic on panel and canvas in mainly small scale works and making scenes and items that feel familiar and peaceful.
SHOP LAUREN GORDON ONLINE
Vendor:

Regular price

Sale price

$45.00 USD

Unit price

per

Vendor:

Regular price

Sale price

$45.00 USD

Unit price

per

Vendor:

Regular price

Sale price

$35.00 USD

Unit price

per

Vendor:

Regular price

Sale price

$45.00 USD

Unit price

per

Vendor:

Regular price

Sale price

$95.00 USD

Unit price

per

Vendor:

Regular price

Sale price

$45.00 USD

Unit price

per

Vendor:

Regular price

Sale price

$45.00 USD

Unit price

per

Vendor:

Regular price

Sale price

$45.00 USD

Unit price

per

Vendor:

Regular price

Sale price

$45.00 USD

Unit price

per

Vendor:

Regular price

Sale price

$45.00 USD

Unit price

per

Vendor:

Regular price

Sale price

$35.00 USD

Unit price

per

Vendor:

Regular price

Sale price

$35.00 USD

Unit price

per