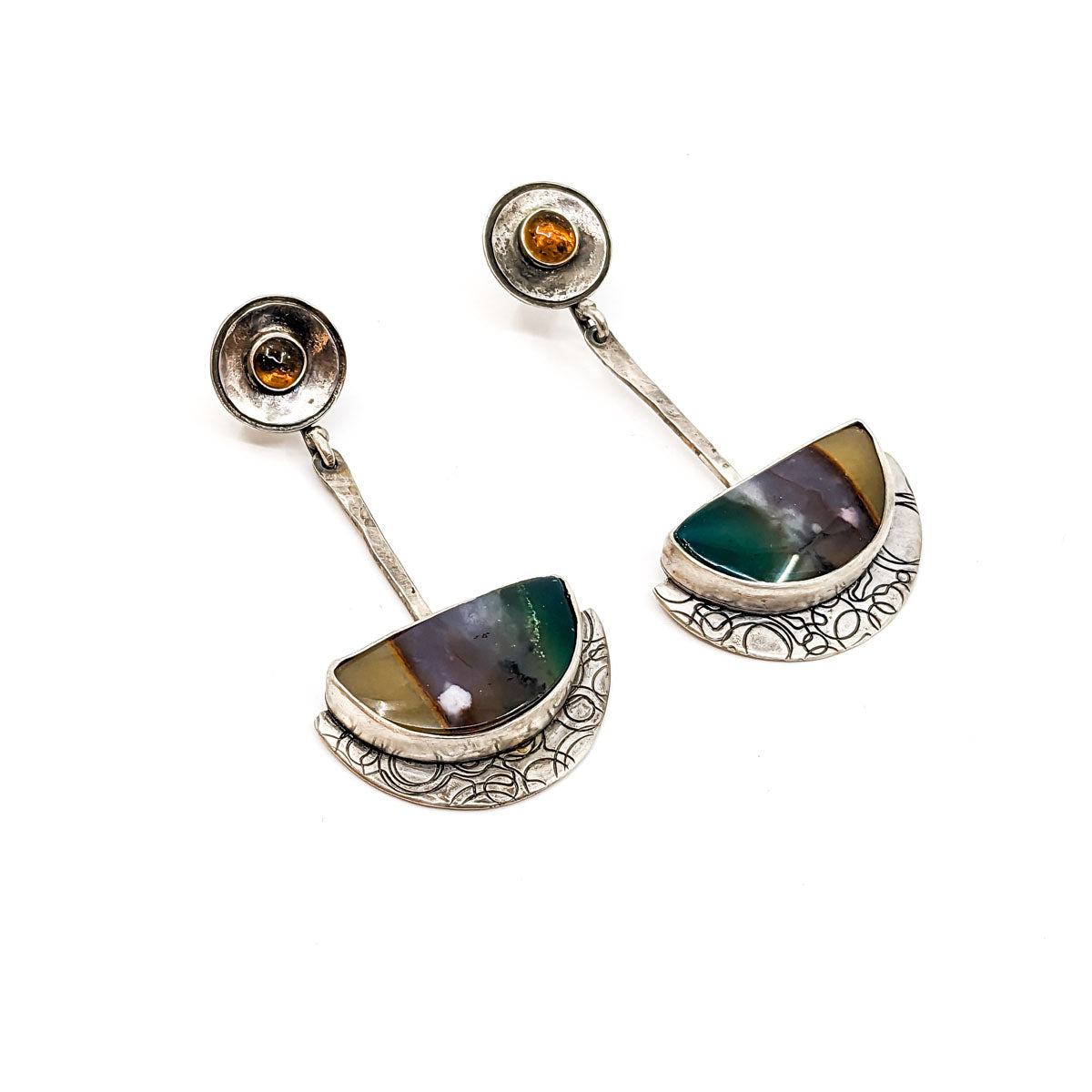 Jennie Lorette Keatts (JLK Jewelry) is an award-winning jeweler who is mostly self-taught, She is primarily known for her sterling silver jewelry designs featuring handmade ceramic cabochons, created from Jugtown Pottery clay and glazes. All of her pieces are made from sterling silver the work, the chains, and the ear wires/backs and accented with semiprecious stones and sometimes 14K gold fill. New in 2023 is her torch-fired enamel pieces.

The pottery stones are made using Jugtown Pottery clay and glazes. Each stone is a handmade cabochon that after drying is fired once to the bisque state in her kiln to about 1800° which makes it hard and porous. Glazes made at Jugtown are then painted on in layers, often more than two or three at once. The stones are then put back into the kiln electric for all but the dark red colors) and fired for 6 hours to over 2100°, The dark red ones are fired in the kilns at Jugtown by gas in a reduction firing (the red comes from the copper in the glaze which in the absence of oxygen turns the color red not green!). If she is happy they are ready to be made into jewelry, if not, another color of the glaze is dabbed on and they have fired again. They are then set in her own designs, fabricated in sterling silver.

2023 brought a new start, working with enamels (crushed glass) that she is incorporating into her work, with and without pottery stones. She is using both a vintage enamel that contains lead (which gives a deep vibrant color) or newer and safer to work with unleaded enamels.

Jennie uses mostly a sgraffito method that begins with liquid enamel. The enamel is created by first cutting a piece of copper, hammer shaping it, and firing the first layer on the back, then a layer is painted on the front and left until it is dry. She then draws a pattern in the enamel with a fine tool and torch-fires it again. The piece is placed on a trivet and fired from below with a propane/oxygen mix torch. Once cooled the pattern shows black lines etched into a white or beige background. She then hand-paints ground-up enamel (glass), both new and vintage into the drawn designs and fires it again. These pieces once done are usually put into a sterling silver setting using one for the following methods: bezel set, frame set, prong setting, or rivet setting to hold them in place. Many are accented with semiprecious stones and/or 14K gold fill. All her work is designed and executed by her in her studio just up the road from Jugtown Pottery in Seagrove.
To clean the pieces: warm soapy water and a soft toothbrush can be used to remove loose dirt. To remove tarnish a polishing cloth or a very fine sanding sponge can be used to restore the satin finish. Many of the pieces have a patina applied (basically tarnishing the surface and removing some so that you see highlights and a satin finish). The cloth or sponge will lighten and remove the tarnish. The stones are high-fired ceramic so soap and water will not harm them. Storing sterling silver jewelry in a plastic bag will slow down the tarnishing process. Swimming in chlorine or the sea, spraying on perfumes, lotions, etc will speed up the process considerably-so take your jewelry off for these things!