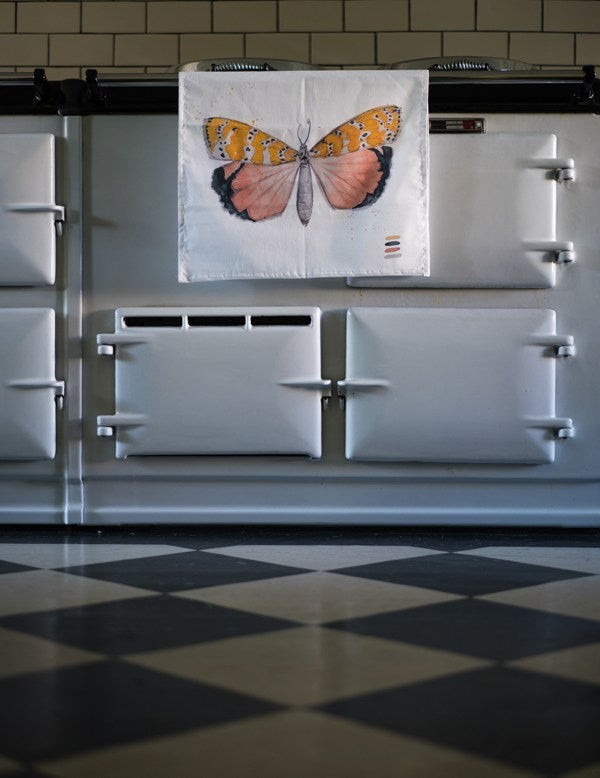 Being an artist isn't something you choose, it's who you are. I took the long route to discover you can't be someone else even if you try. After earning a Bachelor's degree in 2-D Studio Art, I took a 10-year hiatus from art because, well, making a career of it can be tricky. After graduate school, where I earned a degree in Consumer & Retail Studies, I found myself in the home furnishings & wholesale gift industries. While I enjoyed aspects of those careers, the neglected artist in me was growing increasingly restless by the year. Once I concluded she wasn't going away, I formulated a plan to combine my education, work experience & first love (art). HighBrow Hippie was born in the fall of 2016.
The Luna Moth, my logo, has been fluttering in the recesses of my mind since childhood. I have a vivid memory of seeing one on the side of a red barn when I was 5 or 6. The contrast in colors, the shape of her wings, that almost luminescent yellow-green; it all made quite an impression on my little mind and years later I found myself putting her down in charcoal and watercolor. Nature has always been a source of peace & fascination for me and thus a natural source of artistic inspiration.
Watercolor isn't the most popular medium. Its transparency poses a challenge since mistakes can rarely be corrected but I'm drawn to it because of the balance of control & chaos. You can designate an area to work within, wet that area & then set the pigment free to flow & settle how it will. It's one of my favorite things in the world to orchestrate and observe. It reflects thoughtfulness, grace, graciousness, & trust. . . all traits I hope to reflect in abundance in life.
With a little creativity and the help of local manufacturers, my watercolor paintings now adorn home décor, stationery & accessories. HighBrow Hippie currently offers a mix of textiles & paper products and that may evolve and change with time. But my hope is that it will always be a vehicle for artwork that brings smiles & connection through welcoming homes, meaningful gifts or simple conversation starters. 
SHOP HIGHBROW HIPPIE ONLINE