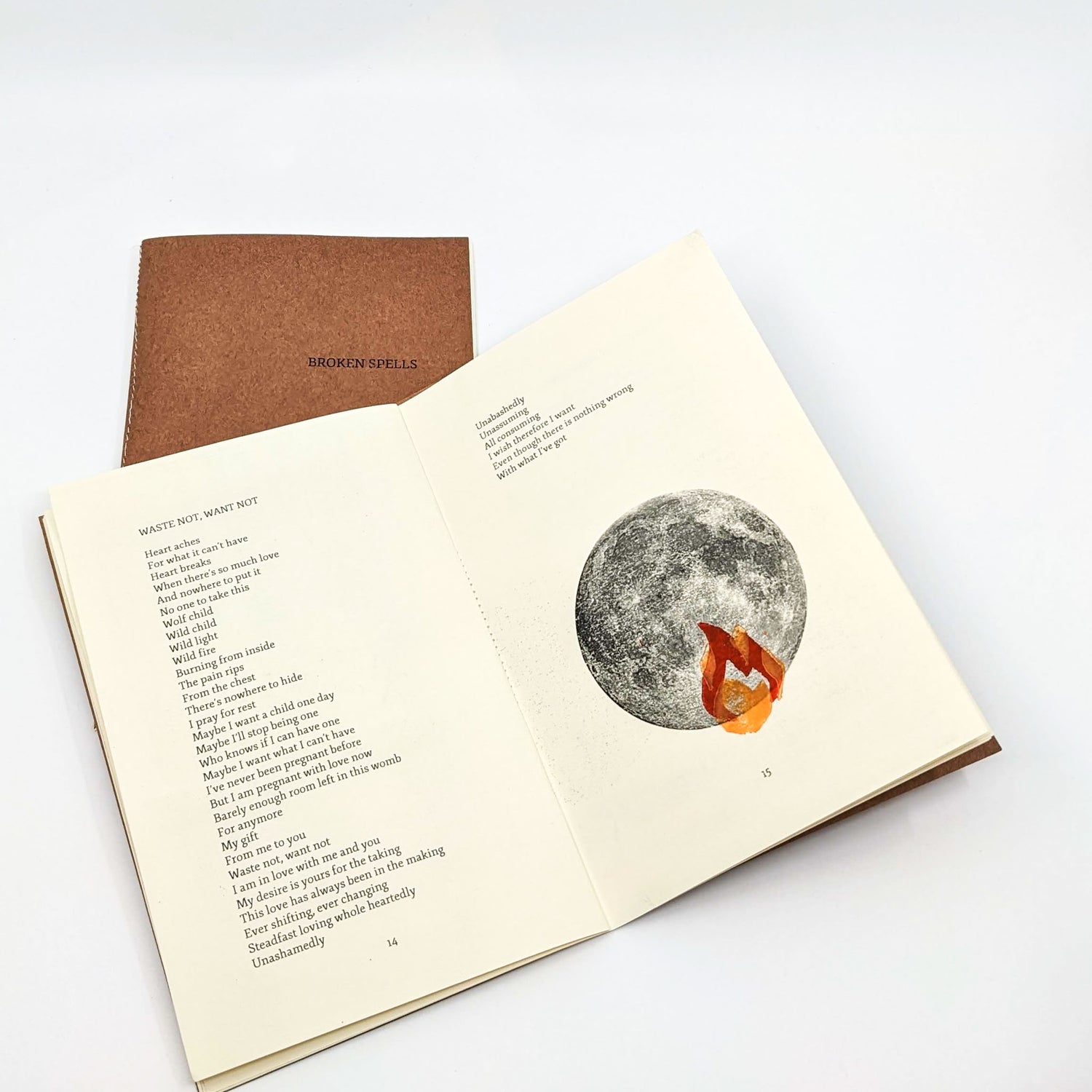 BROKEN SPELLS
A local zine focused form the feminine gaze.
Broken Spells Zine is a poetry and art publication based out of Winston-Salem, North Carolina. 
The founding members are Jes Bolduc, Tessa Everton, and Sofia Mazaris. The philosophy guiding this publication is that the world is shaped by narratives. These narratives cast spells on the collective consciousness, ultimately creating culture. We believe the current culture is incomplete due to insufficient representation in its narrative. Thus, we aim to amplify marginalized, feminine voices in the narrative via the zine to cast new spells more reflective of a fuller scope of human experience. 
Jes, Tessa and Sofia are the artists and poets featured in the first publication of the zine, each providing original poetry and art prints unique to every individual published zine. True to zine form, this will always be a self-published, bespoke and uncensored piece of artwork. 
Jes is an internationally recognized scientist and artist hailing from the hills of West Virginia, arriving in Winston-Salem in 2011. Their current projects utilize poetry, somatic movement, contemporary dance, and experimental noise to explore topics like non-human intelligence, the body as an instrument/lens, network theory, and feminine myth. After living abroad for a few years, Jes loved Winston so much they decided to come back and make it their home. For Jes, Broken Spells is a beautiful external representation of the creative sisterhood she has found here.
Tessa is a Winston-Salem native who has been writing poetry and zines for the last 20-plus years. She has a love for design and community that she has fostered through creative entrepreneurship, product design, and community building through art festivals. She is currently working in poetry and Stained Glass, asking questions about how ancient mysticism affects us in our modern world.
Sofia Mazaris is a multi-disciplined artist currently working in printmaking, poetry, and painting. Raised in Wilmington, Delaware she has called Winston-Salem home for the last 8 years. She has a strong history of creative leadership in group projects and a unique voice when working independently. Broken Spells Zine is especially important to them as a child of illiteracy, this project has given confidence that their words will resonate with others and form connections. 
The publication is creating a space to hold their voices, and to promote artist creativity and healing, with the larger aim of creating community and connectedness via a rippling effect. 
The goal is to produce new volumes every quarter with each new season.  Volume One was released in September 2022. Copies are available for purchase at Downtown Books and News in Asheville, North Carolina, and at Visual Index in Winston-Salem, North Carolina. 
SHOP BROKEN SPELLS ONLINE
Vendor:

Regular price

Sale price

$15.00 USD

Unit price

per

Vendor:

Regular price

Sale price

$15.00 USD

Unit price

per